IP over 2 wire video intercoms are an excellent option for upgrades where you want to make use of existing cabling or where Ethernet cabling is not available. 2-Wire technology allows installation of an entire Intercom system, using just 2 wires with both power and data running on the same cables.
IP over 2 wire video intercoms support integration with mobile phones to answer intercom calls remotely from anywhere in the world. The outdoor units are modular allowing Call buttons to be configured to suit Single Homes, Multi Unit Dwellings or Apartment Buildings.
Any intercom on this website can work over 2 wire using IP to 2 wire converter kits, please contact us for more information or assistance.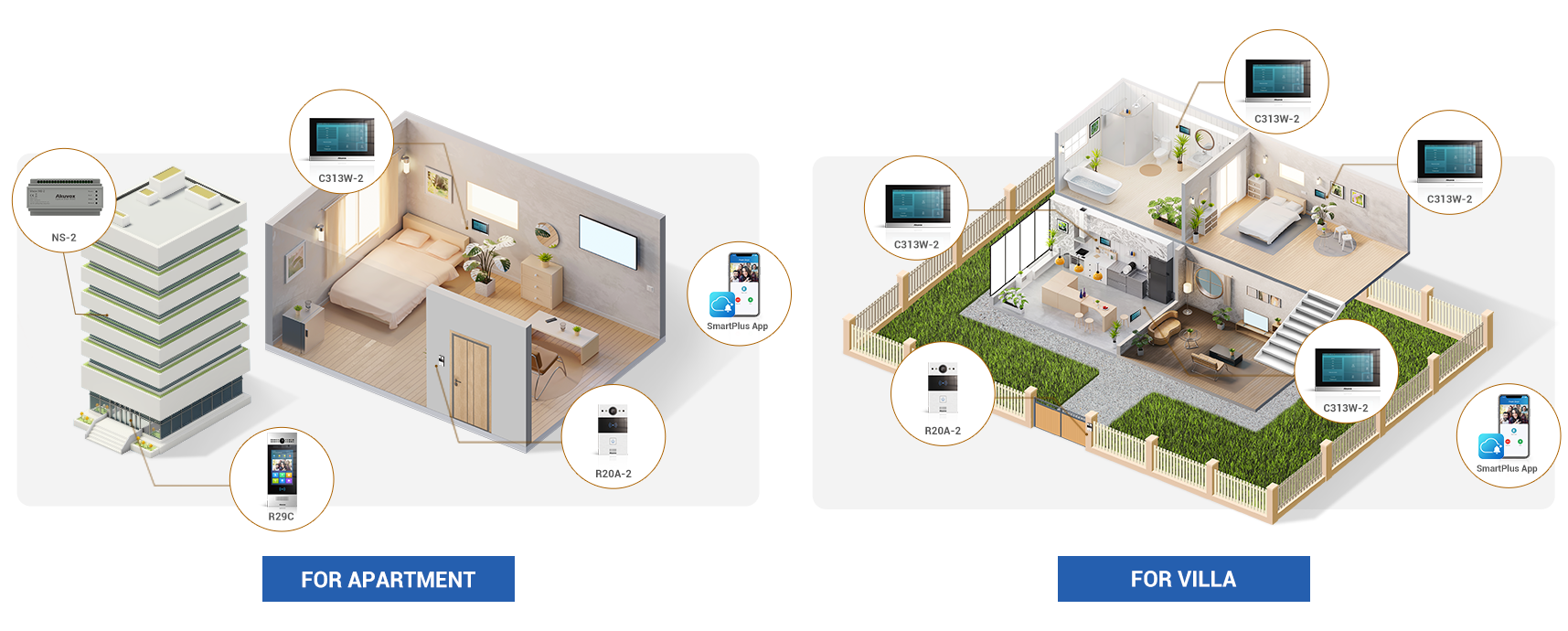 Showing all 9 results
Akuvox 2 Wire Intercom Kit – R20A-2, C313W-2

Akuvox 2 Wire Intercom Kit  is an excellent option for upgrades where you want to make use of existing cabling or where Ethernet cabling is not available.

Akuvox R20A-2

Vandal resistant body, with a flush button
Two-pin wire for power supply and network access
Wide-angle camera: 110º (H), 58º (V)
IC/ID Card Reader embedded
Two-way audio communication over IP networks with Echo Cancel & Noise suppression
H.264 video compression

Akuvox C313W-2

Ultra-clear, stylish appearance
Thin profile and small footprint
7-inch capacitive touch screen with energy saving mode
Two-way audio communication with other units in the 2-wire IP network
Powered by NS-2 or external source
Super long transmission distance via 2-wire cable
Support US or European electrical wall box mounting

Price Quoted is for Akuvox 2 Wire Kit with 1 x Akuvox R20A-2 Door Unit, 1 x Akuvox C313W-2 Intercom Monitor & 1 x Akuvox NS-2 2 Wire switch. Additional devices i.e. R20A-2 Door Units and C313W-2 Intercom Monitors can be added if required upto a maximum total of 6 devices. Please click on links below or browse Accessories & Complementary Products to add additional Door Units or Intercom Monitors.

Akuvox R20A-2 Door Intercom Unit

Akuvox C313W-2 Intercom Monitor

Please contact us for price

Quick View