IP Clocks & Infoboards
IP clock systems are one of the more advanced systems available in the time solutions market. PoE (Power over Ethernet) or Wi-Fi Network Synchronized clocks tap into traditional Ethernet technology, receiving power and time data by directly connecting with your local area network (LAN) or wide area network (WAN). IP Infoboards provide synchronised time and offer visual alerts for critical situations or general messaging. Infoboards can display a message within seconds for critical events, to communicate with everyone in the building in uncertain times, reminders such as safety tips, locating the appropriate terminal at transport hub or finding which session is next at a large conference..
PoE Clocks & Info boards are suitable for Schools, Shopping centers, Healthcare, Factories, Warehouses, Car parks, Bus Stations, Train Networks, Airports, Shipyards, Swimming Pools, Amusement Parks, Showgrounds, Gas stations, Markets, etc.
Showing all 8 results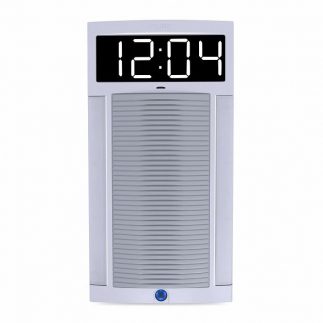 Superb audio clarity and intelligibility by way of a four-speaker line array, delivering asymmetric sound dispersion