Biometric Fingerprint Scan, Bluetooth / BLE, Home Network Smart Locks, Keyless Door Entry Systems, RFID / NFC Access, Smart Locks, UL1 - Bluetooth, Fingerprint, Fob, Ultraloq
ULTRALOQ UL1 – Fingerprint, Fob, Bluetooth Access with Deadbolt Pairing Option
$395.00
Ultraloq UL1 – Fingerprint, key fob, and Bluetooth compatibility makes UL1 versatile, convenient and affordable.

Easy to retrofit on existing doors.
Advanced Fingerprint Identification
Bluetooth Proximity Unlocking
Contact-less Key Fob Unlocking
Monitor Access Remotely
View Users and Logs
Option to pair with Ultraloq Smart Autobolt
DIY Installation
Weather Resistant
Description
You can access your house by putting your finger on a fingerprint sensor placed on the handle, by using Bluetooth proximity detection (shake your smartphone in while in the connected range) or with a contactless key fob. Aside from using it to gain access, the smartphone app for the Ultraloq UL1 can be used to see if you remembered to lock your house, to see who accessed the house and when along with the access type. The smartphone app can be used to add new users for the lock, and deciding on which way they can access the house. You can add up to 100 users in total, and they can unlock the door via a key fob, smartphone or by using fingerprint sensor.
The Ultraloq UL1 uses a high level of security by utilizing bank level 128-bit AES encryption every time a user accesses the lock via Bluetooth connection. Aside from a bank level encryption, designers implemented a second security layer in the form of a dynamic key, making the unique security key randomized during every data transfer.
The lock is made out of two parts, the handle equipped with a fingerprint scanner and the optional Ultraloq AutoBolt. The Autobolt is an extra layer of security placed above the handle, a small deadbolt part that automatically unlocks once you gain entry, and relocks once you leave the house. It comes in black color and is a perfect fit to the Ultraloq UL1.
Accessories
Bridge Your Home to Your Life
With the optional Ultraloq Bridge upgrade, you can control entry to your UL1 or UL3. Simply plug the Bridge into an outlet in your home, and you can grant access to guests and visitors via an eKey for specific dates or periods of time. There is no limit on the number of users you can grant eKey access and no monthly fees!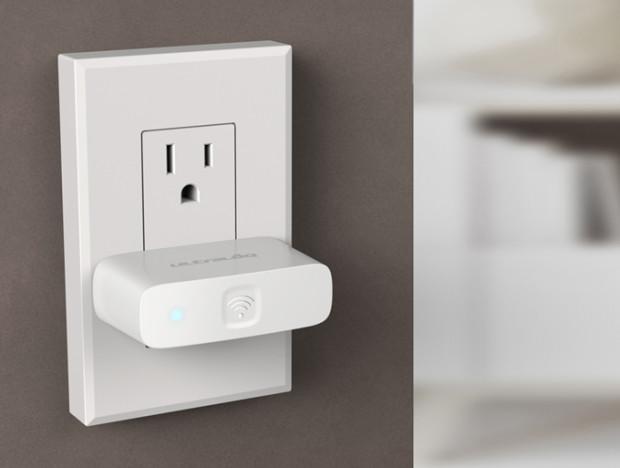 Bridge is ideal for granting temporary access in any situation. You never have to leave work to rush home again. With the Bridge accessory, you can even receive smartphone notifications when someone opens your door for ultimate safety and peace of mind.
Downloads
Video Presentation