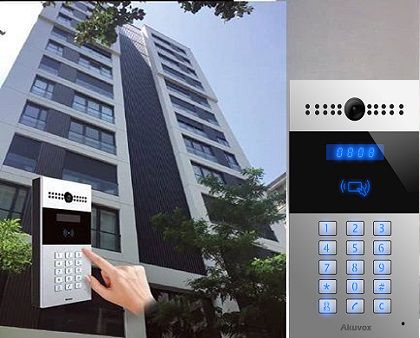 Make your development stand out with a smart network that offers Multimedia Services.
We make it simple for property developers to build smart communities with solutions that offer a greater choice of services to meet the growing expectations of residents moving into new developments.Our solutions are designed keeping in mind flexibility and scalability and can be customized to suit the unique requirements of the users.
All our Solutions are IP based easy to install and are extremely cost effective . First since our devices share the common network cable there is no need for extra proprietary cable runs. Second almost all devices support PoE eliminating the need for installing power outlets and electrical cable runs.The third advantage is all our solutions are modular you can start with a basic system and add extra devices as and when required thereby saving on upfront investment.
We offer  turnkey solutions for new property developments in the following categories
SIP Intercom Systems – Our SIP audio and video intercoms and public address systems offer true IP technology ensuring lower costs, investment longevity, simplified system expansion and ultimate flexibility.Our intercom systems integrate seamlessly with a large number of security and building management, CCTV, Elevator Control and Access Control systems to provide a cohesive security solution to meet your needs.
Keyless Digital Locks – Our Key-less entry locks offer multiple modes of operation Keypad , Biometric fingerprint, Bluetooth/ Zwave / Zigbee wireless functionality and also mechanical backup keys just in case.Smart Locks can communicate with the rest of your smart home network and with your phone regardless of wherever you are.You can easily lock or unlock your doors, check the status of your door lock, set a individualized entry code for a visitor or service provider and receive a text message or email when your door is accessed.
Access Control – IP Access control systems are very cost effective and offer great flexibility and scalability. Unlike traditional access control systems you don't need to buy a whole pile of hardware, you can start with a one device and add extra devices as and when required. IP Systems can also be monitored and managed remotely over the network.
CCTV Surveillance –   IP surveillance is the most flexible and future-proof option for security and surveillance installations. We offer Next Generation H.265 based scalable, well-proven network video solutions that offer outstanding video surveillance and monitoring capability, combined with exceptional flexibility that keeps costs down.
Car Park Access Control – We also offer Automatic Number Plate Recognition Cameras that can be used to manage and control automatic car park access for authorized vehicles, If you would like further information on how ANPR access control works please do get in touch with us.