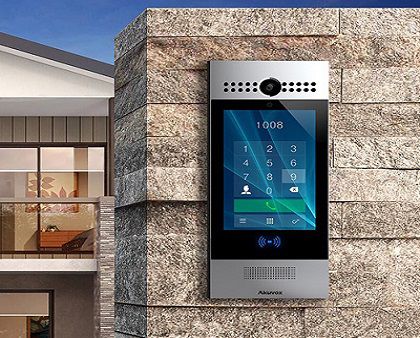 Security Intercom, Key less Entry and IP CCTV Solutions that meet the growing requirements of modern homes.
As a leading supplier of SIP Intercoms, Keyless Entry and IP CCTV networks for Luxury Housing market since 2008,  we have provided solutions to hundreds of dwellings spread all over Australia and New Zealand ranging from Single Houses to Apartment Buildings and Gated Residential communities.All our solutions work on the common network cable eliminating the need of special cabling, this not only reduces costs but also ensures quick and easy installation.
The intercoms we sell are SIP compliant, i.e. they are a generation ahead of normal IP intercoms in terms of features and functionality. Besides doing  everything IP intercoms can do, SIP intercoms can integrate with VoIP networks to make calls. Imagine how beneficial it would be if your intercom or camera could call you and stream audio and video when triggered  by a visitor. With the roll out of NBN more and more systems becoming SIP compliant, SIP intercoms are increasingly gaining popularity.
SIP Intercom with Access Control
SIP Intercoms and Access Control Systems are the front line in any home security setup, we offer some of the worlds most advanced and reliable systems to protect your family and secure access to your property. Some features are listed below.
Enhanced security and convenience – Besides opening doors remotely when on call, users can open Doors / Gates with Keypad or RFID access.
Support recording of visitor images / video with option to forward snapshots to your email inbox.
Integrate 3rd party devices – Integrate IPhone, IPad, Android tablets, IP Video Phones, Cordless , Wall mount Panels etc.
Gate / Garage Control – multiple relays allow integration with Gate, Garage control systems, Lights etc. for greater convenience and security.
Enhanced weather protection – our IP67 rated anti vandal intercom stations can withstand extreme weather conditions.
Integration of SIP Intercom with Phones : Integration of SIP Intercom and Telephones allows dual use of devices – you can answer and make Intercom and Telephone calls from the same device unlike traditional systems where Intercom and Telephone systems were separate units. This reduces hardware, cabling and installation costs. Intercom calls can also be forwarded to mobiles or remote phones.
Keyless Entry Solutions
There are many different types of security and locking devices commonly used in homes and Offices. However, in recent times, the use of key-less entry locks have become very popular due to their use of biotechnology and wireless connectivity.
A lot of home and business owners these days want something that is truly reliable when it comes to securing their properties. Key-less entry locks offer multiple modes of operation Keypad , Biometric fingerprint, Bluetooth/ Zwave / Zigbee wireless functionality and also mechanical backup keys just in case.
Our Smart Locks can communicate with the rest of your smart home setup and with your phone regardless of wherever you are.You can easily lock or unlock your doors, check the status of your door lock, set a individualized entry code for a visitor or service provider and receive a text message or email when your door is accessed.
IP CCTV Surveillance
Besides superior image quality the many benefits of using IP based cameras combined with their ability to work on existing network infrastructure and reduce installation costs makes them a must for any modern household. Advantages include remote accessibility, easy installation and integration, better scalability, flexibility and cost-effectiveness.
Realtime – SIP Cameras can make a video call or send alerts when alarm is triggered thereby enabling users to see and hear in real time.
Remote Access – Remotely access your cameras/ recorder from anywhere in the world from mobile, tablet or PC.
Range of Cameras –  Next Generation H.265 based Indoor and Outdoor models with MIC, speaker, Digital input / output etc. all PoE enabled for easy installation.