Description
Netsilon 7 is everything you expect from a time server: a precise and accurate time for reliable timestamping of events. Effective and easy to use, it is a concentration of technology that meets the latest standards. This is done securely thanks to its internal time base and single sign-on protection. It meets regulatory obligations in terms of cybersecurity, an issue that is now unavoidable in all sectors of activity.
Time accuracy at an affordable price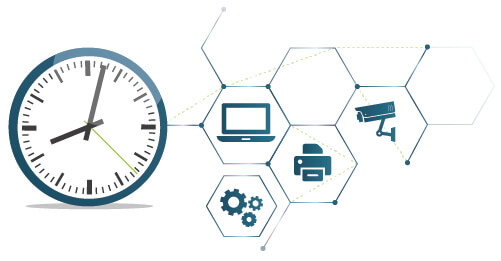 Netsilon 7 technical characteristics perfectly match the needs of non-critical systems. It synchronises the IT network(s) and all IT equipment (computers, printers, video surveillance systems, etc.). Thanks to the accuracy of the time distributed, time stamping allows you to build an accurate and reliable database of events that occur on the network. These data enable you to monitor that the equipment is functioning correctly.
Application Areas
Industries, production companies, logistics platforms, hospitals, pharmaceutical laboratories, airports, railway stations, data centres… All entities concerned by the issues of performance, time stamping, cybersecurity and network security.