Description
The NX6505 Series Security Window / Counter intercom system provides support for clear communications when speech is impaired by the use of a glass barrier, security screen, or other counter security barriers. The NX 6505 Window / Counter intercoms enhance staff security and safety and provide a safe and hygienic environment for easy communication with customers .
Security Window / Counter intercom – NX6505 series is embedded with IP Audio digital network audio technology and comes with Microphone interface and Customer Speaker. The Microphone base is placed inside the counter window for staff to communicate with customers outside the window over the customer speaker. Both the units are amplified and include volume controls for loud and clear communication. The NX6505 is renowned for its excellent two way speech quality, thanks to its 3W speaker and integrated Microphone, customers can talk hands free without the need to touch the device.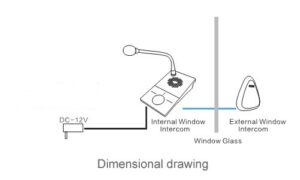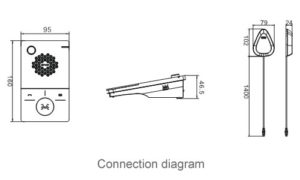 Security Window / Counter intercom – NX6505  is ideally suited for below applications
Healthcare – to ensure staff safety and a safe hygienic work environment in Hospitals, Clinics, Healthcare reception areas.
Where there is danger of robbery or violence like banks, post offices, ticket offices, cashier windows, petrol stations, night service windows or offices for social services such as interview rooms.
Where security has to be maintained like passport offices, foreign offices, embassy receptions, guarded entrances and police stations to taxi offices, movie theatres, stadiums and theme parks.
NX6505 is our best selling model with numerous repeat orders and has been acclaimed by users for its brilliant performance.