Fanvil SIP Intercoms, IP Video Phones, SIP Intercom Monitors & Phones, Uncategorized, Video Intercom for Apartments / Gated Communities, Video Intercom for Home/ Office
Fanvil i56A SIP Indoor Station
· Android 9.0 OS
· 10.1-inch color touch screen
· Built-in 1W double speakers with AEC
· Support visual intercom and remote access control
· Real-time monitor of the door phone and cameras
· Built-in 2.4G/5G Wi-Fi and Bluetooth 5.0
· 1 pair of RS-485 interfaces
· 8 alarm input interfaces and 2 short circuit output interfaces
· Wall-mounted and desktop installation methods (with the external desk stand)
· Compatible with major platforms: 3CX, Avaya, Asterisk,  BroadSoft, Metaswitch, Elastix and etc.
Description
Fanvil i56A is a 10.1-inch color touch screen SIP indoor station with Android 9.0 OS, which can be applied in different indoor scenarios. Working with door phone and intercom at the entrance, Fanvil i56A can be easily achieved remote access control for residences. It can also be connected to alarms and other intelligent security devices via rich interfaces.
Fanvil i56A delivers a user-friendly experience with an elegant design and a clear 10.1-inch color touch screen. The Android 9.0 OS in Fanvil i56A supports a greater compatibility with 3rd party apps ensuring and more powerful functionality. Fanvil i56A supports built-in 2.4G/5G Wi-Fi and has multiple interfaces to connect more security devices.
Fanvil i56A SIP Indoor Station Datasheet
You may also like…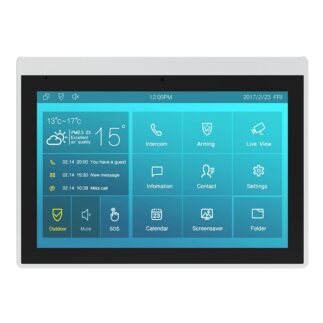 Featured