Fanvil Paging Speaker, IP Bell, PA & Mass Notification Systems, IP PA Speakers, SIP Loud Ringer, SIP PA Speakers, SIP Phone Ringer
Fanvil iW30 SIP Speaker – PoE, Wall Mount
$485.00
· Compatible with standard SIP (RFC3261) protocol and main IP PBX/IMS platforms
· All-in-one -a combination of network Audio Codec, Digital Power Amplifier and Speaker
· Supports 2 x SIP accounts, one can be used for announcements and one as ringer alerter.
· Standard RJ45 port, support VLAN and cloud deployment
· Video linkage with IP camera to monitor on-site during broadcasting
· Volume adjustment via online remotely
· Built-in audio output interface for external active speakers
· Output Power 10W with PoE, upto 30W with external power supply
Please contact us for special pricing on large project orders.
Description
The Fanvil iW30 is an IP Speaker that has been designed to complement a complete system that includes telephony, broadcasting, and intercom for applications scenarios such as a school, hotel, office or supermarket where audio output is necessary. This speaker can be used for broadcasting as well as live monitoring from a monitoring center. The Fanvil iW30 is compatible with all major SIP-based IP PBX's and supports third party telephony systems for easy deployment. In addition, it supports PoE and offers various choices of amplified output power: 10W, 20W or 30W. An external power supply can also be used.
The Fanvil iW30 SIP Speaker supports standard IP/RTP voice transmission protocol and compatible with all main SIP based IP PBX /Softswitch/IMS platforms like Asterisk, Broadsoft, 3CX, Elastix etc for quick and easy deployment. It supports third party's telephony system to achieve the combination system including telephony, broadcasting and intercom for the application scenarios like office, school, hotel and supermarket.
Download Fanvil iW30 SIP speaker datasheet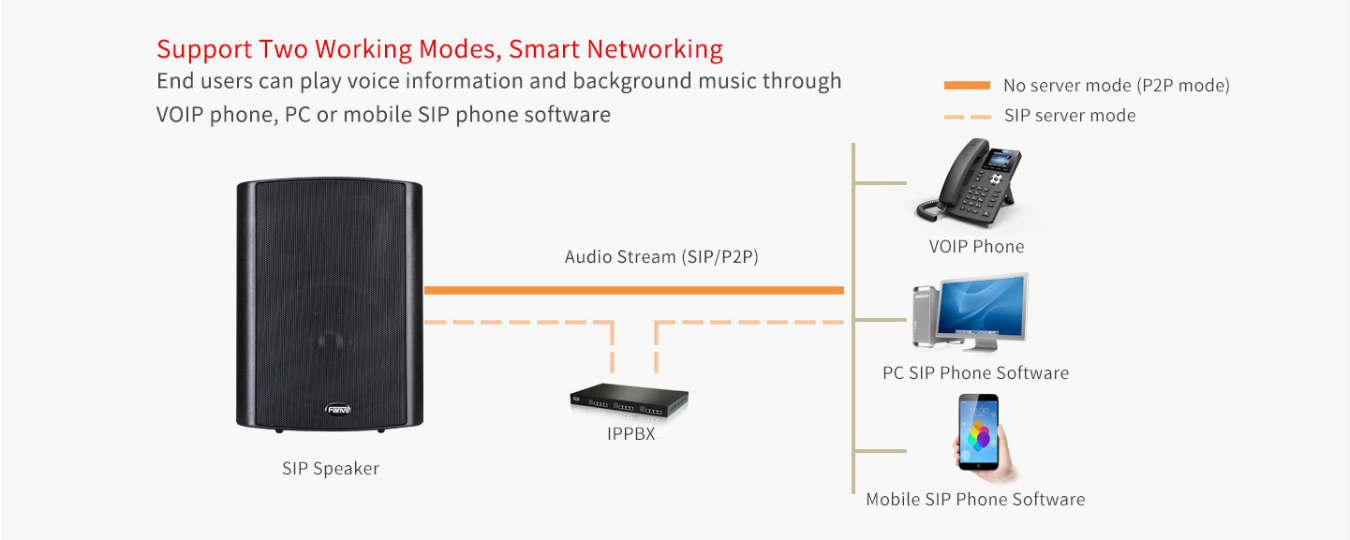 You may also like…