Description
Akuvox R29C-L  4G LTE Cloud Intercom solution is cost effective and eliminates the need for investing in unnecessary cabling. Akuvox R29C-L  delivers intercom calls directly to your Mobile over the 4G network via the Akuvox Smartplus App. Akuvox R29 Cloud Solution is ideally suited for Apartments where cabling does not exist or running new cabling is not feasible. System functions like adding, modifying and deleting users, assigning individual access levels, programming scheduled door locking and unlocking and other vital access control actions can be performed remotely.
How does Akuvox R29C-L 4G LTE Cloud system work ?
Imagine, you are not at home and your children have locked themselves out or the courier wants to deliver a parcel. With Akuvox Cloud this is no longer a problem. Every time someone rings the doorbell you will get a push notification on your smartphone or tablet. Via the Akuvox Smartplus App you are not only able to talk to the visitor but also see them live in HD quality. You will never miss a visitor again. With Akuvox Cloud you are on the move and yet at home, even if a burglar rings at the door to check if someone is at home.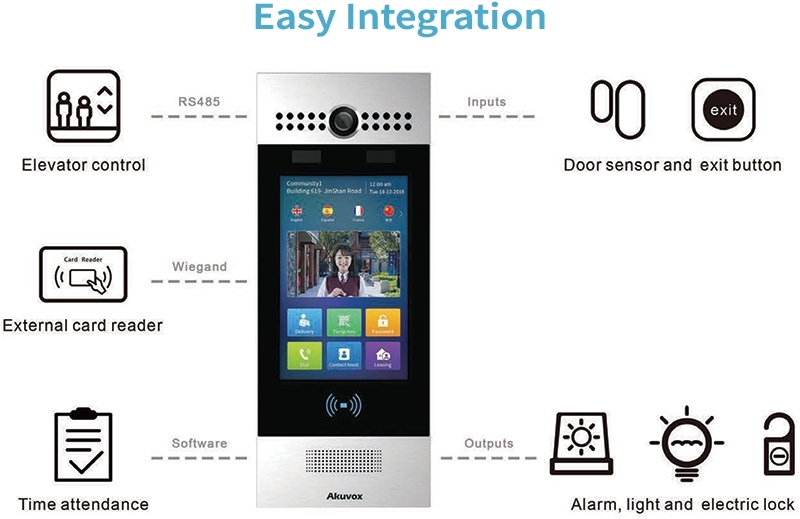 Akuvox R29C-L LTE 4G is the industry's cutting-edge SIP-enabled IP video door phone featuring Android Operating System (OS) and a large capacitive touch screen. It is ideally suited for Apartment applications because of its ability to display name directory of apartment owners which allows dialing with a single touch. The integrated Card Reader and Keypad can be used for Access Control for added convenience.
Application Scenarios
Office door phone with on-site or hosted IP-PBX
Control remote site entry over the internet
Perfect for apartment / building intercom with door access control
Bonus function: business information display or a welcome screen