2N Indoor Talk
2N® Indoor Talk is an indoor IP/SIP audio unit allowing for voice communication with the 2N IP intercoms. The device includes a touchscreen, Speakerphone, microphone, Ethernet interface for LAN connection and connectors for induction loop and doorbell external supply. 2N® Indoor Talk is a high-quality, cost efficient and easy-to-install and configure answering unit. One installation can combine variable answering units manufactured by 2N Telekomunikace a.s.
2N® Indoor Talk basic features:
display with capacitive touch layer
full duplex handsfree audio communication
LAN interface with PoE supply option
easy flush mounting
combination with 2N® Indoor Touch answering units
DND mode
remote door lock control
ambient lighting at relax
light signalling of activation by call
integrated user web interface
external doorbell button input
external power supply input
induction loop input.
Showing all 6 results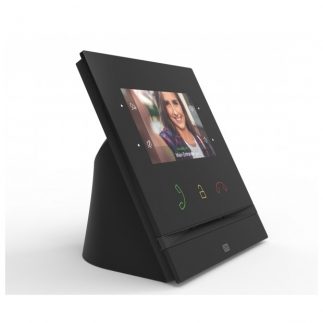 A stand for 2N answering units. The stand can be positioned on a reception desk or even a shelf in a flat. Simply fi