IP Intercom Packages
Our IP Intercom Packages combine some of the best products bundled together at discounted rates. Not only do our intercom packages offer value for money but they also ensure the right product combinations for easy installation and trouble free performance for years to come.
If you are having an existing Analog Intercom running on non Ethernet cables and wish to retrofit / upgrade to a new IP video intercom system, please check out our analog to IP intercom packages which allow easy upgrade on existing cables.
If you like any specific intercom models displayed on this website and would like to have it as a part of package, Kindly call or email us the details of the models, we will be happy to provide you a package offer for the same. Please call us or email us your request.
Showing all 10 results
Sale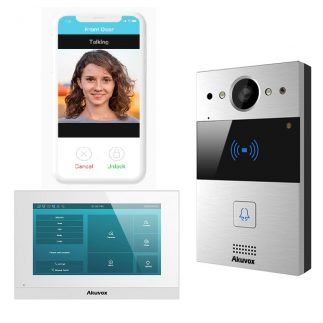 Cost effective package with high end features Akuvox R20A Video Intercom basic package includes Akuvox R20 Door I